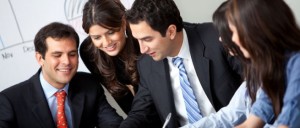 For those who are possibly interested in pursuing a career in the business administration field, it is important to understand that there are different types of business degrees. Whether one has an interest in human resources, a passion for marketing or a knack for finance, there are a variety of business degrees out there that cater to everyone's particular interest and or career goals, according to Business Majors. Here is a quick overview of the different types of business degrees and their related concentrations.
Management
Management is by far one of the most common business degrees out there. Students have the opportunity to take a variety of courses related to different management philosophies and processes. Students will learn all about organizational effectiveness, leadership, executive decision making and business operations management. A management degree tends to be a bit more broad in its focus and this is typically a good start for someone who sees themselves working in sales and operations management. For those who find interest in management, look into entering a management trainee program after graduating with this degree.
Marketing
Marketing is a really defined niche degree, however it can be a bit broad like management. However, marketing degrees offer students the ability to take very specific courses related to marketing management, advertising, sales, product management, strategy and business development. Those who study marketing often go into careers related to advertising, digital marketing, sales, business development, brand management and product management.
Finance
Finance, the most mathematical of all business degrees, tends to be heavily focused on looking at the overall financials of a business or organization's operation. Students will take a variety of courses in business finance, economics, risk analysis, pricing, and investment strategy. Students typically will go on to become financial analysts, purchasing agents and financial controllers.
Decision Information Sciences
Decision Information Sciences is a heavily information technology-related business degree that is centered on helping companies develop systematic business processes that allow them to eliminate any operation inefficiencies, improve product performance and sales as well as grow overall profitability. This is a heavily data-oriented business degree and students will have to not only take foundational business courses, but would also need to take a variety of programming languages like C++, PHP, Java and COBOL. Students will go on to become business analysts, web developers, programmers, project managers and program managers.
Human Resources
Human Resources is a very niche-related business degree. Students will learn how to become effective and high-performing HR associates who help businesses hire, retain and grow very talented employees. They will learn everything about compensation, payroll, benefits, hiring, retention and firing. Students will take courses in human resources law, performance management, benefits management and recruiting. Students often end up working for organizations as HR generalists, associates, analysts, recruiters and benefits analysts.
Related Resource: Choosing On-Campus Housing
Business education is in constant flux and in the near future, different business degrees and program will emerge allowing students the ability to concentrate in different areas. As usual, when it comes to pursuing an education, always do your due diligence and make sure you are finding the right accredited program to fit your needs. Business education is definitely diverse there are different types of business degrees.