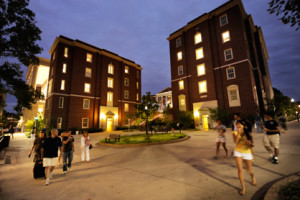 Whether you're an incoming first-year freshman or an upperclassman, it's important to know how to choose on-campus housing at your university to successfully obtain the rooming assignment you want. Your surrounding environment will play a prominent role in determining how you're able to study, socialize, and live for an entire academic year, so the housing selection process should never be taken lightly. On-campus housing is notorious for being pricey, but remember it will have utilities, cable TV, wireless Internet, and furnishings included. Plus, living on a college campus is usually only available for four years, so it's best to take advantage of delaying the full responsibilities of adulthood when you can, according to USA Today. Read on to learn more about how on-campus housing usually works to ensure you're prepared to find the room you really want.
On-Campus Housing Options
When students think of on-campus housing, the first thought that comes to mind is usually dorms. While it's true that universities typically have the most space offered in traditional residence halls, there are other options available that may be more comfortable. For instance, suites shared between three to six students are becoming increasingly popular. Many colleges offer upperclassmen the opportunity to stay in a one or two-bedroom apartment on campus too. In some cases, universities may also have townhouses conveniently located on their campus to cater to upperclassmen, graduate students, and married couples. Whether you like living alone or would rather live with a slew of your friends, there's bound to be an on-campus housing that fits.
Housing Selection Process
Selecting your on-campus housing arrangement can vary greatly from college to college, but most schools will require you to fill out a housing application before a deadline. If you're already a student, you'll likely participate in housing selection during the spring semester. Once you've submitted the application, your priority will usually be determined based on your academic class standing and you'll be given a specific date to select your room. Those participating in housing selection without a roommate will often choose a room only after paired occupants have selected, so finding a buddy first is advised. Afterwards, most colleges will provide a room refinement period to shuffle your assignment if needed, but availability may be limited.
Benefits of Living on Campus
Choosing to live on campus is beneficial for creating a socially rich and academically supported experience throughout your college years. You'll be within walking distance of the library, dining center, and classroom buildings without fighting traffic. Coming back to your room between classes to do homework or grab a bite to eat is very convenient. According to the American Council on Education, students residing on campus have higher retention rates, are more likely to succeed, and develop a more positive self image. Campus housing also helps create bonds with peers and offers the chance to participate in fun social activities more easily.
Related Resource: Pell Grant
Overall, the on-campus housing selection process usually includes filling out an application, signing a housing contract, paying housing fees, and selecting your room assignment on an established schedule based on your academic credits. Now that you know how to choose on-campus housing, you can start preparing for your move-in day by packing the college essentials that you'll need to succeed.