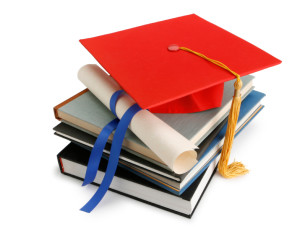 All college students have to declare a major, and many also get a minor before they graduate. Declaring a minor is usually a good idea, but it's not for everyone. You may want to think about minoring in something if you want to be more employable after graduation, have multiple passions or just want to learn something new.
Becoming More Employable
To become more employable, get a minor in something that relates to your major. For instance, if you have a major in sociology and want to work with underprivileged people after you graduate college, consider getting a minor in social work. Animal science majors, however, would be better off minoring in wildlife ecology, biology or zoology. If you don't really know which minors would go well with your major, you can choose a minor like Spanish or computer science. According to Pew Research, there will be around 40 million Hispanic Spanish speakers in America by 2020. Being able to speak a foreign language should help you land a job, especially one that involves working with a variety of people. If learning another language doesn't appeal to you, gaining computer science skills will make you stand out to employers who are looking for tech-savvy individuals.
Following Your Passion
Being able to start a career that's closely related to your passion is great, but it's not always possible. This doesn't mean that you should give up what you love, though. Instead, become involved in your passion through other avenues. You could start a blog or website about it, join a club or get a minor in the subject that you love. Minors usually require about 18 credits, or six courses. This means that you'll be able to take a class that you absolutely love almost every semester while still earning the credits that are needed for your major. Most schools have various classes that are taken, because they're fun and enjoyable instead of for employment purposes, so don't feel like you have to be a star student in order to declare a minor. Instead, just have fun and enjoy learning about your passion.
Learning Something New
If you don't have anything that you're extremely passionate about, now might be the time to try something new. It's your job to learn while you're in college, so take every opportunity that you can to gain more knowledge. Since most universities offer classes in a variety of subjects, you should be able to learn about things that you've never had a chance to learn about before. If you take a class for a general education requirement and decide that you like it, you can choose to get a minor in the subject. Alternatively, you can look through a list of minors that your college offers and just pick something that sounds intriguing or fun. Minors that could help you learn about new things include:
Robotics
World religions
Family studies
Music
Dance
Philosophy
Related Resource: Types of Financial Aid
Declaring a minor is a great idea for many reasons, and you can choose any subject that interests you. No matter what subject you choose to explore, deciding to get a minor is a decision that will enrich your college experience.