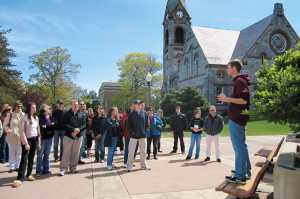 Taking a college tour is one of the best ways to ensure you choose the right school for you, but you can find out even more when you know what questions you should ask when looking at colleges. A large number of students choose schools based on a set series of criteria that they find from their brochures and course catalogs. Even if you have an idea of which school you want to attend and plan to skip the campus tour, you should still ask a few questions.
Financial Aid
You probably already know that you need scholarships, loans or grants to pay for school, but it's important that you ask that school about its financial aid options and packages. Lynn O'Shaughnessy of U.S. News & World Report recommends that you ask about the number of students who receive loans versus those who receive grants and that you ask about the amount of financial aid that students receive. Schools should be upfront over whether more students take out private or federal loans, the average amount of money that each student receives in financial aid and if students receive grants or scholarships.
Graduation and Placement Rates
Some of the questions you should ask when looking at colleges include questions about graduation and placement rates. Graduation rate refers to the number of students who enroll and complete the program. When getting this information, make sure that you ask about retention rates as well. You might find that some schools have a low retention rate, which means that fewer students finish the program. Placement rate refers to the number of students who gain employment after leaving the school. A good university should also give you information about how many of its graduates work in the fields they studied in college.
Student Activities
Do you love the idea of Greek life and can't wait to pledge a sorority or fraternity? Maybe you like the idea of working on the college newspaper or at the radio station on campus. Take the time to ask a few questions about student activities on campus. The school should offer a range of activities that fit your personality and interests. Most colleges have a number of athletic organizations, an active Greek organization and clubs designed for those who love politics and other topics. These organizations and activities help you make new friends and have a better college experience.
Acceptance Rates
Some of the questions you should ask when looking at colleges also include questions on acceptance rates and admissions policies. Ask about the average grade point average and test scores of new students, and find out how many students the school accepts each year. This lets you see if the school is more selective and if your background will make you one of the ones accepted. Many colleges will also give you an idea of what they deem the best students, including the extracurricular activities, grades and test scores of those students.
Related Resource: Make a College Essay Stand Out
You don't need to visit a college to determine if it's a good fit for you. Asking the right questions can give you all the information that you need to know to make your choice. The questions you should ask when looking at colleges include questions about acceptance, placement and graduation rates, its financial aid packages and the number of activities available to students.