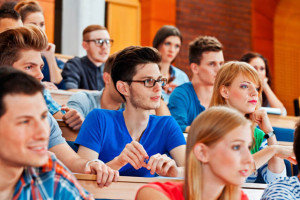 Though colleges offer a wide range of degree programs, the most popular majors in college typically remain the same. As the popularity of certain programs grows, some colleges even cut back on the majors they offer and remove certain programs to make way for more popular options. Looking at the top majors can help you see what programs and degrees students today like the best. This also gives you an idea of how many people will major in the same field as you and the amount of competition that you might face.
Computer Science
During the early days of study into the subject, only a few colleges across the country offered computer science programs. You can now find these programs available at community colleges, private colleges and even vocational schools. Though some think computer science majors learn how to repair and fix computers, they actually focus more on programming and developing. They are the ones who create new video and computer games, design smartphone apps and help companies of all sizes operate a computer network. Computer science is also available as a major at the graduate level.
Communications
One reason why communications is one of the most popular majors in college, is because the subject offers so much flexibility. While you will learn why and how people communicate and how to communicate more effectively, you'll also learn tools that will help you as a writer. A large number of communications majors work in advertising and as press agents. They help clients improve their public personas. Communications majors might write press releases for major companies, assist in the development of an advertising campaign or work on the marketing side of things. You may find it helpful to double major in a second topic.
Education
There will always be a need for trained and qualified teachers, which is why education is such a popular field. Studying education and working as a teacher will require that you complete a series of student teaching experiences. Though you will initially only observe licensed teachers in a classroom setting, you will later have the chance to teach classes yourself. Many colleges have a Department of Education that lets you select a major in elementary school, junior high or high school education. You can also select the topic you want to teach. Some of those topics include social studies, math and life sciences.
Business
One of the most popular majors in college today is business. According to Carly Stockwell of USA Today, the more popular business majors are business management and business administration. Stockwell also points out that a large number of students choose this major because they want to run their own companies later. Earning a business degree allows you to get your foot in the door at major corporations and work your way up the corporate ladder. Many major companies today will not even interview an applicant unless he or she has a bachelor's degree in a business field or an MBA.
Related Resource: Multiple Minors
Choosing one of the more popular majors may mean that you have access to more classes, but choosing a less popular major often means that you face less competition from your peers. Before choosing your field of study, give some thought to the most popular majors in college and the top majors on your campus.