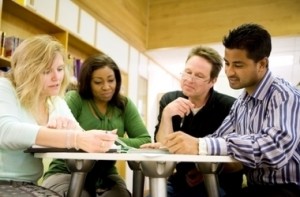 You've probably done a lot of planning and researching if you're planning on going to college, but have you looked into whether you'll be considered a traditional or non-traditional student? Some options, like those dealing with financial aid or housing, may be different depending on which type of pupil you are. While each school has its own definition on what constitutes a non-traditional student, the National Center for Education Statistics lists a few factors that most colleges use when classifying individuals.
Enrollment
Most students start college right after graduating high school and attend full-time. This generally means taking about 15 credit hours per semester, but an individual can take as little as 12 credit hours and still be considered a full-time student. It's worth keeping in mind, however, that a student may not be able to graduate on time if he or she only takes the minimum course load that's needed to be considered a full-time student. Pupils who take less than 12 credit hours per semester are considered part-time students. Part-time students can be classified as three-quarter-time, half-time or less than half-time depending on their course load. If an individual attends school part-time or starts college a year or more after graduating high school, he or she is a non-traditional student.
Family and Finances
A traditional college student is single, child-free and still considered dependent for financial aid purposes. A non-traditional student, on the other hand, may have one or more of the following:
a spouse
one or more dependents
a full-time job
independent status for financial aid
To be considered an independent student for federal financial aid purposes, a student must be one of the following:
married
responsible for a child or another type of dependent
over the age of 24
working on a graduate degree
serving in the military
emancipated
a former foster child
homeless
Some items on the above list have exceptions, so you may want to visit the Federal Student Aid website if you think that you might be an independent student
High School
In order to go to college, students normally have to have a high school diploma or the equivalent of one. Traditional students have a high school diploma from a public school, private school or home school, but non-traditional students may not. For instance, a non-traditional student might have a General Education Development, or GED, credential or a certificate of completion. Some states award certificates of completion to students who have finished four years of high school, but haven't passed all of the classes that are necessary to earn a high school diploma. Some states also offer alternatives to the GED. These examinations allow more individuals to enroll in college. The High School Equivalency Test and the Test Assessing Secondary Completion are both examples of GED alternatives.
Related Resource: Deciding on a Major
No matter who you are or what kind of circumstances you're in, you can get an education. Whether you're a traditional or non-traditional student, going to college should give you the chance to gain the skills necessary to get the kind of job you want while allowing you to have fun and meet new people.