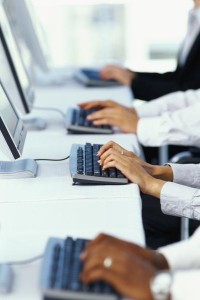 Students seeking admissions into a master's, doctoral, or professional degree program may prefer taking graduate entrance exams that are computerized. In the past, all standardized admissions tests were taken the old-fashioned way with a pencil and paper. Thanks to the advent of educational technology, entrance exams have been reconfigured for computer-based testing at proctored centers across the United States. Scores attained at graduate entrance exams can significantly add or detract from the candidate's admission application. Testing reports are usually weighed heavily along with undergraduate GPA, work experience, letters of recommendation, and career promise. Depending on your prospective program, you may need to take one of the following computerized graduate school entrance exams.
Graduate Record Examination (GRE)
The Graduate Record Examination (GRE) is arguably the most popular and widely accepted admissions test reviewed by the majority of graduate schools. It's estimated that 700,000 students take the GRE each year. Satisfactory GRE scores are required for all kinds of master's degrees and doctorates as well as fellowships. The test broadly evaluates the taker's verbal reasoning, quantitative reasoning, critical thinking, and writing ability. In its computerized format, the GRE is three hours and 45 minutes long. Two essays are required to certify that graduates can use standard English to prove an argument on a certain issue. More than 850 computerized testing centers globally deliver the GRE year-round.
Graduate Management Admissions Test (GMAT)
Anyone considering attending business school should be prepared to take the Graduate Management Admissions Test (GMAT), which is now computerized. Around 110,000 MBA and specialized master's students take the GMAT exam annually. This test includes 78 multiple choice questions and one analytical essay. The computer-based format takes three and a half hours for completion. There are four main sections: analytical writing assessment, integrated reasoning, quantitative analysis, and verbal reasoning. Scores range from 200 to 800 on a bell curve to measure the taker's likely performance in business school. The computerized GMAT exam is given at over 600 test centers across 114 countries.
Medical College Admissions Test (MCAT)
If you're looking to enter medical, osteopathic, veterinary, or pharmacy school, you'll first have to pass the Medical College Admissions Test (MCAT) with flying colors. This computer-based graduate entrance exam lasts three and a half hours with a one hour writing assessment. MCAT candidates will be tested their knowledge of biology, biochemistry, chemistry, physics, psychology, and sociology in relation to living systems. The MCAT focuses on assessing students' scientific inquiry and critical reasoning skills to judge future med school success. Around 71,000 aspiring doctors take the new computerized MCAT exam each year. Testing sessions are available at around 700 locations worldwide.
Related Resource: Common Application Fees
Most graduate entrance exams today have computerized options for a streamlined testing process. For instance, if you're a citizen of a non-English speaking country, you can take the Internet-based TOEFL exam to prove language proficiency. However, the Law School Admission Test (LSAT) remains the one major exception to the rule. Aspiring lawyers will find that the LSAT is strictly a paper-based examination used to test analytical and logical reasoning skills for the courtroom. The LSAT is only given four times each year at specific locations worldwide. Unless you're pursuing a Juris Doctor, you'll likely have the opportunity to take one of the above graduate entrance exams that are computerized for convenience.