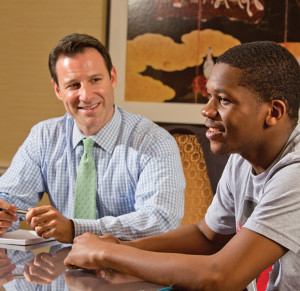 Learning from others' mistakes and successes is the next best thing to acquiring actual experience, and undergraduate students often gain access to this type of information from their college mentors.
College mentors, who usually work in industry or academia, give advice about the necessary coursework and skill sets that are needed for students who are preparing to enter specific career fields. The good ones are honest and supportive enough to identify students' strengths and weaknesses and to help them to develop strategies that they will need to achieve their professional goals.
Ideally, a college student's mentor should have relevant experience in the career field that the student desires to enter, and their mentor should have the time and communication skills to make the relationship meaningful for both parties. Here are some ways that college students can find mentors .
Participate in a School Sponsored Mentor Program
Many public and private universities such as Pepperdine University, Clemson University and the University of Michigan understand the outstanding benefits that students receive when they are properly mentored. These schools facilitate programs that are embedde in their career development centers, and they match students with appropriate mentors. The matching process at many of these schools has gone high tech, and software is used to match students' unique personalities and professional goals with available faculty or alumni who best fit their profiles.
Become a Member of a Professional Organization
Professional organizations often provide a stunning array of resources for students and young professionals. Some professional associations for accounting allow students to have access to the study materials that they will need to pass the certified public accounting licensing exam. The Society for Human Resources Management provides budding human resource professionals with additional training that culminates in certifications that help them to gain entry level jobs faster than their uncredentialed peers. Some of these organizations have student chapters on college campuses, and they are guided by active subject matter experts that can serve as mentors. Also, some of the organizations have formal mentorship programs that match students with professional members who work in a number of industries.
Join a School Sponsored Club
School clubs are also avenues for locating mentors. These clubs are typically led by students under the watchful eyes of academic advisors who have a passion for the clubs' themes or subject areas. Besides having a wealth of knowledge in the particular subject areas, faculty advisors for student clubs usually have extensive professional contacts in both industry and academia.
Do an Internship or Field Work Assignment
Participating in internships often provides college students with relevant work experience and extra money to finance their education. These field work stints also offer students ways to showcase their interests, skills and abilities to future employers. Developing professional relationships with internship supervisors can offer students rare insight into the behind the scenes activities of those who work in careers for which the students aspire to work in the future.
Related Resource: What is the Best Way to Find a College Internship?
Conclusion
Many people can see the benefits that students receive from having knowledgeable and supportive mentors. However, some miss the return on investment that mentors earn when they decide to mentor aspiring professionals. When properly mentored, some college students develop into successful and influential business leaders, and maintaining connections with them can only be a good thing for their college mentors during good economies or sour ones.