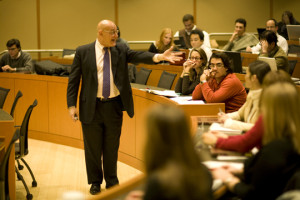 Students hoping to one day become lawyers will find that they usually need to take LSAT to get into law school. The LSAT is essentially an extensive test that is similar to other standardized tests like the ACT or the GRE. It tests your knowledge of different topics. Getting a higher score on this test may result in you getting more financial help and getting into better law schools.
What is the LSAT?
The LSAT is a type of standardized test that consists of five sections that include analytical reasoning, reading comprehension, logical reasoning, experimentation and writing. Each section includes 35 questions that you must answer before moving onto the next section. You have a total of four hours to complete the entire test. You must take LSAT to get into law school because law schools use your scores to see how you compare to other applicants. Schools generally place a high level of importance on your scores and may view those scores as more important than your grade point average or college major.
How Many Times Can You Take It?
When you take the LSAT, you have the option of sending your scores directly to the law schools where you apply or having the scores sent to you only. This lets you view your scores and decide whether to take the test again or officially submit your scores. If you decline to submit or report your scores, the testing board will still view you as having taken the test. You can take the test a maximum of three times within two years. Anyone who attempts to take the test more within that time period may find themselves banned for ever taking the test again.
Do Law Schools Require That You Take It?
Though you may find that some schools do not require that you take LSAT to get into law school, most reputable schools will require that you take the exam and submit your scores after completing your application. This scores shows your ability to answer questions and follow directions. Most students typically score higher in certain areas than others, but law schools want to know that you have some general knowledge and can handle the sometimes difficult questions found on that test. Scoring higher on the test than other test takers can increase your chances of getting into a good law school.
What Else Do Law Schools Require?
Though you will need to take the LSAT before applying to law school, you must also do a few other things. After finishing your application and sending in your scores, you may need to submit multiple letters of recommendation, send in an official transcript from your college and write a resume or a statement of purpose. The Law Student Admission Council recommends that you complete your application at least several weeks before the established deadline. LSAC points out that submitting your application earlier helps you plan better for the future.
Related Resource: When You Should Take the MCAT
As a student interested in attending law school and working as a lawyer, the LSAT is one of the most important tests that you will ever take. Your score may determine where you attend law school. You'll find that you need to take LSAT to get into law school and that schools use your score to determine if you deserve a spot in that school.